DRAFT
Ruacana
When I was a young man I lived in Namibia for two years and it changed me. The second year I was stationed in Ruacana, 2SAI BN, at the border with Angola. It was during the United Nations Resolution 435, when there was less fighting between the Cuban troops in Angola and the forces in Namibia. Today the whole of Namibia is a popular tourism destination and Ruacana, a popular spot with some beautiful waterfalls.
---
Quick, leave now!
In 1988 I had to go to Pretoria from Ruacana, a distance of 3000 km, to write my university exam, Psychology 101. It was a subject I chose on a whim. I was always studying people so for me Psychology 101 was light entertainment.
There would be several legs to this journey. There were also curfews to respect at the time and military zones with guarded gates that closed at 6pm.
To summarize these were my options:
Step one grab what you can throw it in a balsak (an army duffle bag) and leave IMMEDIATELY! After that hope for the best.
Best option
Hitch a ride 200km by vehicle to Ondangwa
Hope for an empty seat on a flight to Pretoria :-)
What the hell?
Hicth a ride 200km by vehicle to Ondangwa
Hitch a ride of another 300km to Grootfontein train station
Hop on the train for a 4 day train ride :-(
Hell why not?
200km by vehicle to Ondangwa
Hitch a ride of another 300km to Grootfontein
Hitch a ride ...
Hitch a ride ...
Hitch a ride ...
Hitch a ride ...
Hitch a ride ...
I had a train ticket in my pocket from Grootfontein back to South Africa, Pretoria. This meant a train journey of 4 DAYS from Grootfontein station to Pretoria station. Many people would cherish such a train trip through spectacular scenery but for me it meant I would be STUCK for FOUR DAYS in a TRAIN. A train on two rigid steel tracks. Today I cannot remember if claustrophobia was part of Psychology 101 but to me this train was a claustrophobic venture and I wanted to be free and besides I did that train journey before. On a train trip from Pretoria to Walvisbay(3 days) there is not much to do. Some guys had to get off at Windhoek for alcohol poisoning.
Namibia
But let me tell you first about Namibia. Namibia is the most spectacular country in the world and it is one of the most popular tourism destinations in the world. Please visit these links for more info. Namibia Tourism
After you decide to go to Namibia the research starts. It is not a country that you can visit on a whim. You need to do some planning. What to see and what to do. You need to cope with 40 degrees during the day and 0 degrees at night. The sun brings warmth but with cold ocean currents running down the coast, temperatures drop to zero at night. Also there are long stretches (+100km) where things can go wrong, and they will, and you won't see another soul for days.
The longest hitch hike (2900km)
So there I was with stuff thrown into a balsak (duffle bag), wearing shorts, t-shirt and plakkies (flip flops) on the back of a vehicle going south.
Once on the same route/road but going north, our driver not only filled up our heavy Buffel military vehicle with Diesel, but also filled up a glass Coke bottle with SUPER petrol and he promptly took the first few swigs before he climbed in behind the wheel. A 100km further on, on a road so straight and boring the inebriated driver fell asleep behind the wheel so he did not see the pack of donkeys ambling across the road. We killed three and wounded another which we had to shoot. But that is just one of many other anecdotes.
My choice of clothes on this trip was the standard uniform for the whole year. You only had to put on your boots and uniform when going to the mess hall so we skipped that. We learned to provide our own food.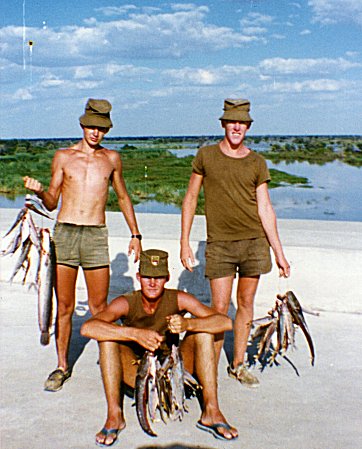 Today as I write this I clearly remember another day back then when we all hopped onto a SAMIL20 (military vehicle) and drove into the bush to get a ratpack no.6 (a goat for the slaughter) and some firewood, and as I looked around at all of us collecting firewood, I realised none of us had our army issue rifle with, and all of us were wearing shorts and plakkies (flip flops). What a life!
First leg of the journey to Ondangwa
200km later I arrived in Ondangwa, late in the afternoon, and ran around like crazy trying to organize a flight on a Flossie (a bush plane) back to South Africa.
I had no luck in organizing a seat on a plane and if I did not push on I would be stuck inside the military zone because the gate closed at 6pm. And vehicles moving around after 6pm would be considered enemy vehicles and might just be riddled with bullet holes.
So I moved on to Grootfontein. It was on this part of the trip that I lost some of my gear. As I hopped off from the bakkie (pickup truck), it left with some of my things still on the back before I could stop it.
Grootfontein to Windhoek (500km)
But my luck changed in Grootfontein. I met a coloured driver of a big horse and trailer (long haul) truck and he was going to South Africa. So we agreed where we will meet the next morning and I will drive with him to South Africa. Hooray!
The next day as I met him, he told me he is very sorry but his wife and children are sitting with him in the front. He has to drop them off in Windhoek. It was a big impressive Mercedes truck with a small cabin with a bed behind the drivers seat. But three grown ups and kids would have crowded the space. So I suggested I go with on the trailer and he agreed. I quickly bought some provisions because for a journey of 500km, on a trailer in the open sun in Namibia, one will need cold beers, ice, cherry cigars and suntan lotion. And with these vital ingredients we departed.
How can I describe that glorious feeling on seeing fantastic scenery pass, whilst smoking a cigar and drinking beer? Simply glorious... and windy. Everything that was not properly stowed away blew away. I only managed to smoke half a cigar. The wind smoked the other half. It was a bit like being in a mini mild tornado for 5 plus hours. I only soaked up the landscape sailing past for as long as I could endure the wind and debris flying. I had a walkman with and bunkered down, trying to hide between wooden crates, listening to my cassettes and soon the 500km was done and we said goodbye to the driver's family.
The coldest night in my life
I cannot remember much of the conversation with the driver. I was a friendly youngster but not an extrovert. I suppose I was curious. I think I asked a lot of questions. It was incredible to see the skill of the driver working the controls effortlessly and going through all 16 gears of the Mercedes truck.
Sitting up front I could appreciate the scenery more as we drove ever closer to the South African border. With every kilometre I started dreaming of seeing my family again.
But when you are waiting to reach 100% things are guaranteed to fail at 99%. And that is exactly what happened. About a 100km before the South African border the truck broke down. It was now late in the afternoon with a beautiful setting sun. That late there aren't many vehicles on the road and the driver had to make a quick decision. We decided I will stay with the truck and he will hitch a ride to South Africa where the company he was working for had a depot. Remember there were no cellphones or even a payphone within 100km.
After the driver left with the first passing vehicle that stopped to help, I was alone in the middle of nowhere. No more engine noises or big rubber wheels whining on the tar. This might have been the start of my obsession with complete and utter silences. Silences in the middle of the night when you can hear sound travel over great distances, a dog barking 2km away, noctural animals calling. Or when you are alone on a long stretch of road you hear a car approach long before you can see him. And when you finally see the mirage on the horizon you know it is a vehicle because the sound whispered the approach some minutes ago. That is pure magic. Give me a lonely hill on a moonlit night and I am in heaven. That was the elation and joy I felt. I no longer needed to talk. I could just be one with insect world and the sun setting.
Boy oh boy did that feeling change when the sun disappeared completely. I tried sleeping but would wake after only a few minutes feeling like a block of ice. I tried many things during the early night to keep warm but nothing worked. So that night, the coldest night ever, I probably ran a half marathon up and down that lonely stretch of tar road just to stay alive. In the distance I could here jackals calling ominously.
TO BE CONTINUED